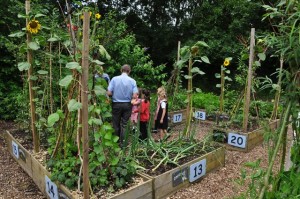 Community-based Agriculture (CBA)
In the US, gardens of all kinds (e.g. community, school, church, urban, etc.) are growing in popularity and diversity. Scholars and the US Department of Agriculture (USDA) refer to these efforts collectively as community-based agriculture (CBA). Community-based agriculture differs from community-supported agriculture (CSA) by emphasizing consumer participation, civic duty, and smaller scale production.  Today, many community gardens are funded with USDA grants and in some cases produce enough revenue to be technically considered agricultural operations. An increasing amount of people are being fed garden-based produce either as part of a local food effort or civic program. Importantly, more people are also participating in the garden itself; this includes youth and adults unfamiliar with many of the tasks and equipment associated with cultivating food. This trend is expected to continue and, because community-based agriculture promotes consumer participation in food production, agricultural health and safety researchers need to familiarize themselves with these emerging populations and practices.
Guidelines
In non-agricultural industries, there are regulations and work standards that indicate appropriate work for both adults and children. In agriculture, the standards and regulations are different, and may not apply on a farm or garden. Parents/supervisors often assign jobs based on their past practices, need for "extra hands" to get the job done, and preferences of the child and/or adult. The North American Guidelines for Children's Agricultural Tasks (NAGCAT) were developed at the request of parents to assist them with assigning safe and appropriate jobs to children and youth. These guidelines can also assist adults with teaching youth how to do a job safely. Complete sets of guidelines for youth can be found here.
Booklet
This booklet represents select guidelines specific to gardening.