All Terrain & Utility Task Vehicles
All Terrain & Utility Task Vehicles
---
"Whether you are riding to work or riding to play, please ride to live by being safe."
---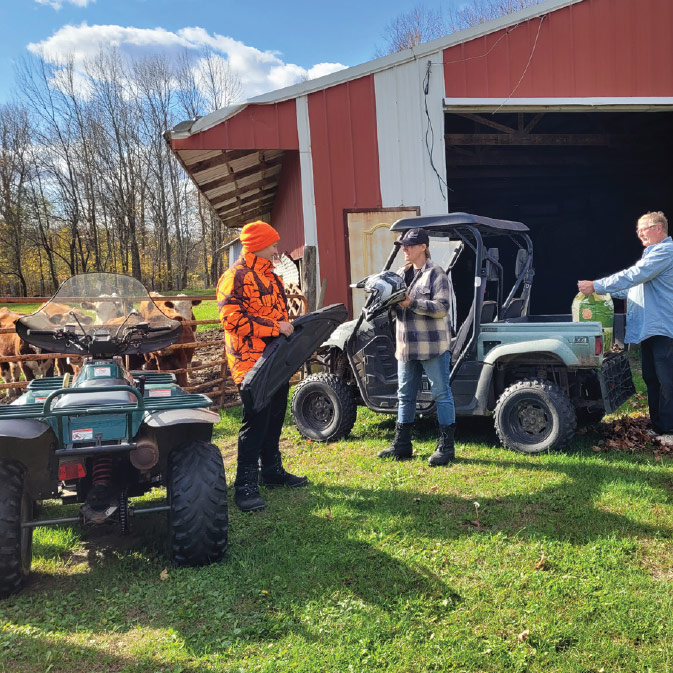 About ATVs & UTVs
ATVs and UTVs have become increasingly popular over the last few decades. Many find them fun to drive. Others find multiple uses for them in their work, such as towing or hauling things, pulling small implements, plowing snow and transportation.
While fun to drive and useful for work, ATVs and UTVs can also be dangerous. In the U.S., there are more than 100,000 emergency room visits annually due to ATV/UTV injuries, and approximately 650 people die in ATV/UTV incidents each year. About 25 – 50% of these injury and fatality incidents involve children.
ATVs and UTVs can weigh more than 2,000 lbs.
ATVs and UTVs roll over easily
Most ATVs are not meant for passengers
Rollovers, run-overs, falls and ejection from ATVs and UTVs are common causes of injuries and fatalities
ATVs and UTVs are not designed for roadway use and are especially prone to rollovers on paved roads.
What's legal isn't always safe. Ride smart. Ride to live.
Safety Strategies
Always wear a helmet, especially on ATVs
Take a safety course
No children under 16 operate an adult-size ATV or any UTV
Do not drive ATVs or UTVs on paved and/or public roads
Ensure operator is able to safely operate vehicle/perform task
For additional safety strategies, resources and incident stories please download the trifold or poster below, available as both a digital-optimized format and a printable version with crop marks.
---
Trifold and Poster (PDFs)
Note: The print versions are CMYK-formatted and contain cut marks.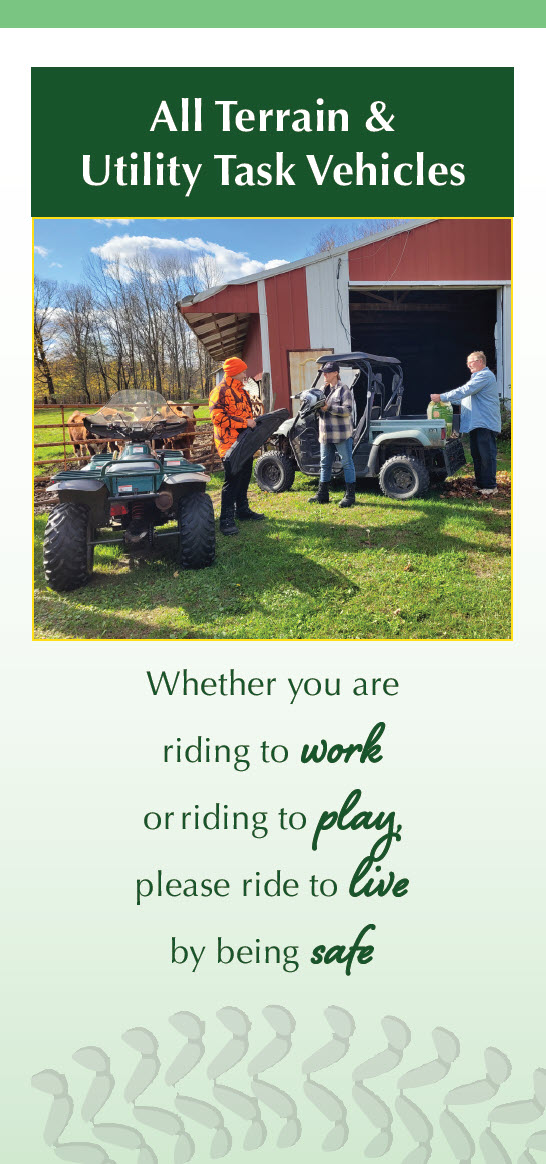 ATV/UTV Trifold
Digital Format
Print Format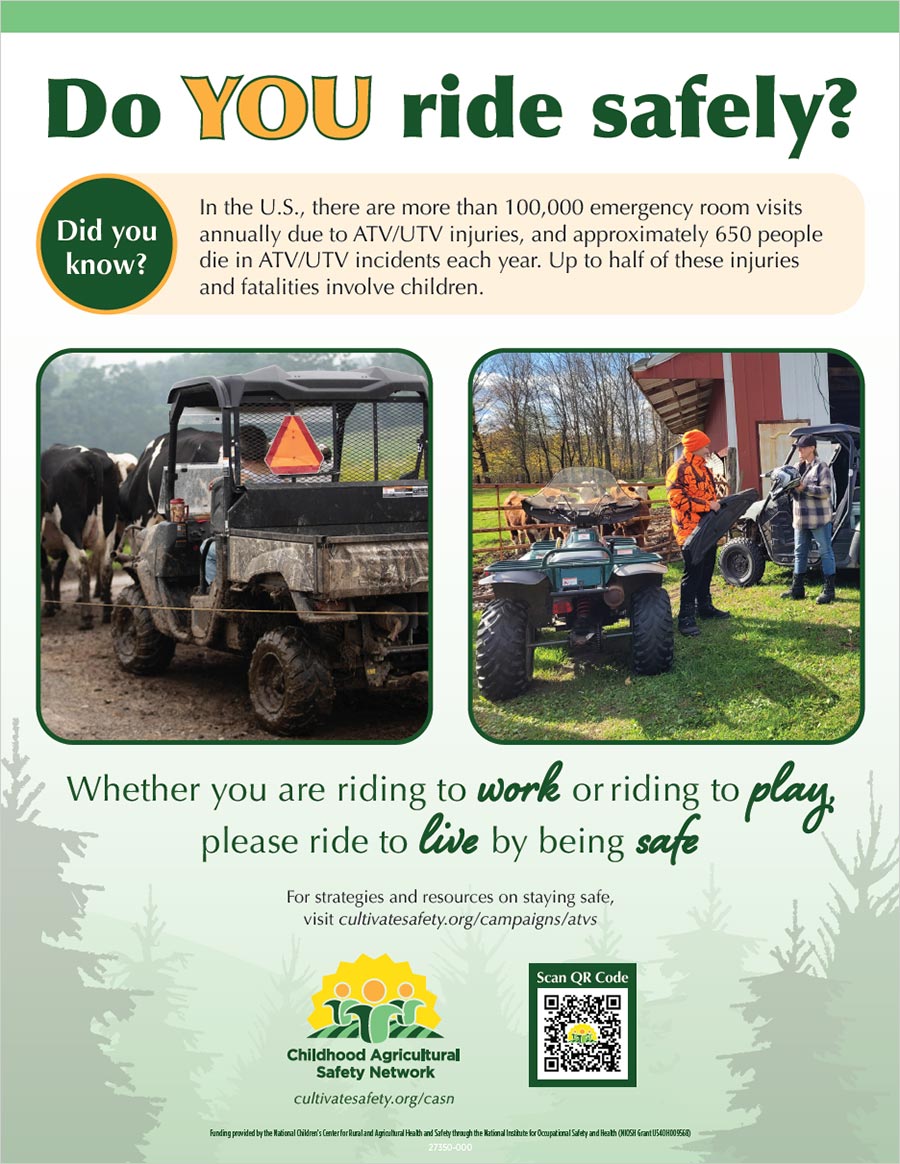 ATV/UTV Poster
Digital Format
Print Format
---
CASN Member Resources
Agricultural Youth Work Guidelines
These ATV/UTV guidelines are available in English, Spanish and French and customizable in skin tone and equipment color.
ATV Curriculum, Demonstrations and Safety Guides
The resources below are PDFs created by various institutes as part of ATV/UTV safety awareness and training activities.
ATV Safety (Motion Graphic Video)
This ATV Safety Video was produced through a partnership with Ag Health and Safety Alliance and the Central States Center for Agricultural Safety and Health (CS-CASH).
Safer Riding on ATVs in Agriculture

All-Terrain-Vehicles (ATVs) are widely used in the United States for recreational purposes and a wide range of occupational applications. Learn riding essentials to stay safe while riding an ATV.
The embedded video below is part of a six-video series. To view the rest of the videos, you may click on the playlist icon in the top corner and select from the list, or visit them directly at the links below:
Tools of the Trade: ATV/UTV Safety
Through the use of a tilt table we demonstration how center of gravity changes when adding a load.
---
Academic Corner
ATV Safety Poster – ISASH (Ag Safety and Health Alliance)
Also available as a Printable PDF
.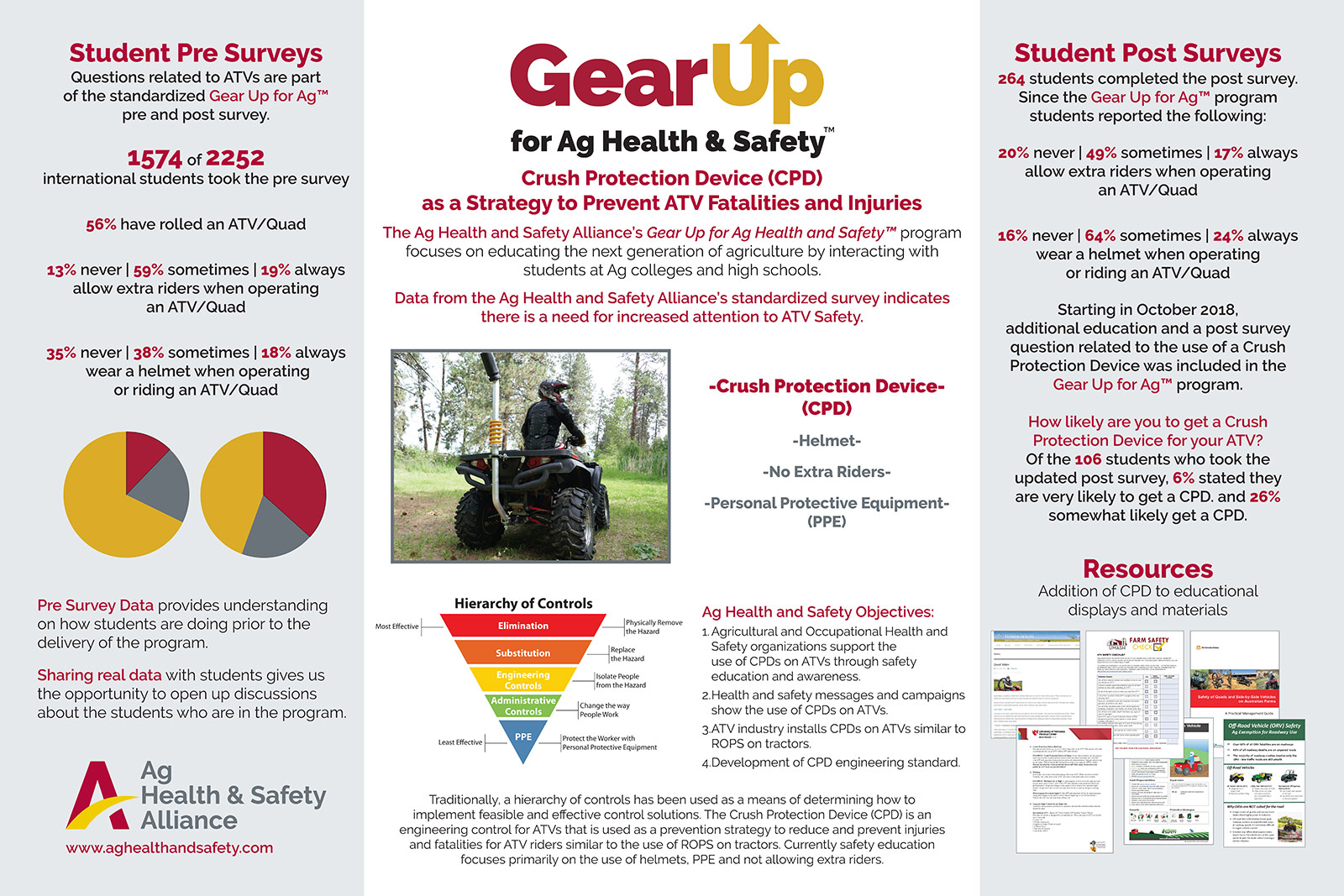 ATV Safety Manuscripts
The links below are externally hosted manuscripts and may require registration and/or purchase fees to download. If you encounter a broken link, please contact us for assistance.
---
Additional Resources
ATV Safety Institute
Visit to access safety information, riding tips, ATV safety courses and more.
ATVSafety.org — ASI's primary goal is to promote the safe and responsible use of ATVs, thereby reducing accidents and injuries that may result from improper ATV operation by the rider.