Play
Each year, more than 100 children are killed and nearly 12,000 are seriously injured on U.S. farms. The highest rate of injuries involves children younger than 10 years old who were playing in the worksite. To prevent these injuries, create, use, and maintain a safe play area on your farm. More information is available below.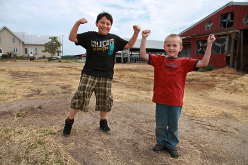 Non-Working
Learn More >>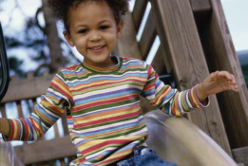 Safe Play
Learn More >>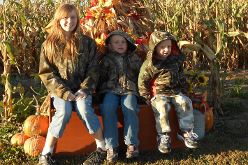 Agritourism
Visit Site >>
Leading Causes of Injury to Non-Working Children on Farms
Deaths
Runover as bystander
Runover as passenger
Drowning
Hospitalized Injury
Fall from heights
Machinery entanglement
Animal (falls, struck by, crushed by)
Medically Treated Injury
Animal (falls, struck by, crushed by)
Falls from heights
Preventing Injuries to Non-Working Children
Prohibit access to the farm worksite
Keep kids away from tractors
Install passive physical barriers
Fence water hazards
Install fall protection in haylofts
Fence animal enclosures
Install barriers around machinery and vehicle compounds
Institute safe storage practices
Don't lean large objects (tires, water troughs, etc) against walls
Put away tools and sharps
Identify child care alternatives
Arrange off-farm child care
Arrange in-home childcare
Develop and enforce consistent rules for recreational activities
Horses and riding activities
Safe Play
Playing is an important means for children to develop physically, emotionally, socially, and intellectually. Different types of play activities influence these attributes of development. An ideal play area blends activities matched to the developmental stages and abilities of children.